Vixen SG 6.5x32 ED WP astronomy binocular features ED glass, BK7 roof prisms, waterproof, ultra high reflectivity, soft case and neck strap.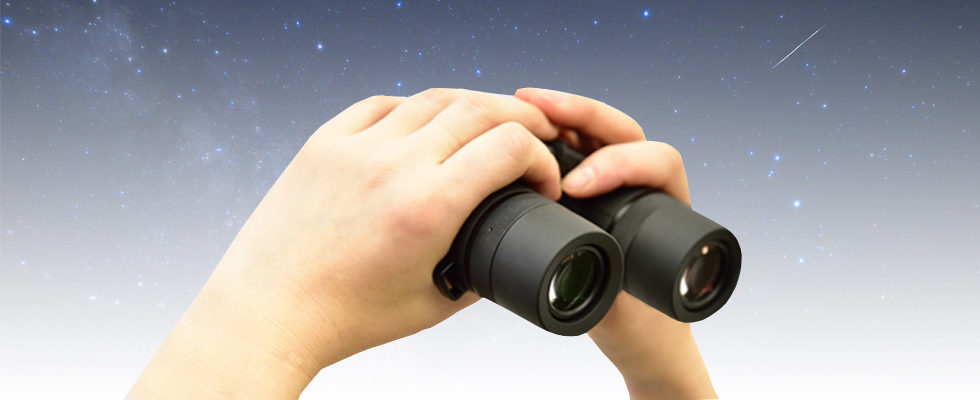 Vixen SG 6.5x32 ED WP Main Specifications
| | |
| --- | --- |
| Title | Contents |
| Magnification | 6.5 times |
| Effective diameter of the objective lens | 32 mm |
| Prism material | BK 7 |
| Coating | Flat multicoat, phase coat, ultra high reflection coat |
| Real field of vision | 9.0 ° |
| Apparent visibility | 58.5 ° (54.2 ° *) * ... Calculated according to JIS B7157: 2003. |
| 1000 m ahead field | 157 m |
| Diameter of pupil | 4.9 mm |
| Brightness | 24.0 |
| Eye relief | 20.0 mm |
| Close range | About 6.0 m |
| Interpupillary distance | About 56 to 76 mm |
| Size (height × width × thickness) | 14.0 × 13.2 × 4.8 cm |
| Weight | 610 g |
| Tripod mounting | Yes (H, MH, M) |
| Waterproof | Yes |
| Accessories | Soft case · neck strap |
Easy and comfortable starry sky viewing alone.
In observation of a starry sky, the astronomical telescope which can see the statue of the star brightly and in detail demonstrates its power, but on the other hand, it is easy to view with hands, and binoculars with a wide range that can be seen at once also enjoy the starry sky It is an indispensable tool for the purpose.
"SG 6.5 × 32 WP" to be released this time is a binocular for the observation of the starry sky which was developed with pursuit of important performance and function when seeing the star, with the aim of seeing the starry sky more easily and more beautifully.
A high-quality optical lens that promises a bright and sharp star image The entire lens has a special lens coating boasting the same high level of transmittance regardless of the wavelength (= color) of light. In addition, by adopting an ED lens that has low color bleed and high color reproducibility for the objective lens, any color star can be seen with a bright and clear image with no color bias.
For the prism, adopt high-performance optical glass BK7 which is also adopted for the lens of the astronomical telescope, and special glass with little absorption of light, applying super high reflection coat and phase difference coat makes the star image brighter and sharper I will copy it.
The eyepiece is a high eye type securing an eye relief of 20 mm and can be comfortably used even by those wearing glasses. Also set the magnification to 6.5 times lower. You can enjoy the starry sky comfortably without feeling the camera shake which degrades the resolution feeling.
Body design that is easy to hold and difficult to cause camera shake When looking at the starry sky, I look into the binoculars in an upward posture, but with binoculars that does not fit nicely in the hand, it is easy for the camera shake to occur, and it can not be seen stably. "SG 6.5 × 32 WP" adopts a smooth line design that naturally adapts to the palm of the hand, and it can support weight well in balance when it is held in the upward position. Even with long-time starry sky observation, it is difficult for camera shake to occur, and you can keep watching it steadily.
Viewing the stars Unique to the binoculars Comfortable functions
Accurate focusing to enjoy beautiful stars possible
Focusing adopted "IF method" focusing independently with right eye and left eye. This prevents right and left defocusing which is likely to occur in "CF method" focusing on the center axis. Moreover, it is designed so that the pitch of the focus movement becomes finer near the focus position (infinity) of the star, so you can focus more precisely. By adopting the large focus ring, you can operate surely while gloves are in cold weather etc.
On the side of the body of binoculars where you can quickly find the stars you want to see, I designed a linear protrusion parallel to the line of sight. This protrusion can be used as a simple sighting device, and by superimposing this straight line with the star you want to see, it is possible to smoothly guide the star to sight.
The waterproof specification body that is safe even in night dew is a waterproof specification of rubber coating and nitrogen gas enclosure, you can use it with confidence even in night dew or sudden rain.