The company
Skypoint Srl was founded in 1999 by Marco Cosmacini and Marzia Muradore, with the intent to become a viable alternative in the market of amateur astronomy. An alternative created by amateurs and not by traders as we combined work and passion: this means knowing what we sell direct experience.
Skypoint now, thanks to the rapid growth, specialization and professionalism and the exclusive distribution of most famous brands, is regarded nationally as the reference point for the Italian amateur astronomy community and also at European level is one of the companies more specialized and rich of products.
Our company directly cooperates with many specialized manufacturers to guarantee all the most competitive prices in the market and a wide choice of products of all brands: currently in the catalog there are more 3000 items, many available in stock.
Skypoint headquarter
Visit us at our shop of 800 square meters in Campoformido (Udine) on Highway 13, No. 145/11 to see many instrments and accessories on display and to be advised on your purchase.

In our store, thanks to our dedicated meeting room, the groups of amateur astronomers, observatories or public institutions, schools or individual users can decide, choose and analyze the instrumentation of the observatory, followed and adviced from our staff.

Headquarter:
Sala espositiva 110 metri quadri
In negozio è possibile trovare tutti i più importanti prodotti commercializzati da Skypoint come si può ben vedere dalle fotografie dell'esposizione con telescopi da 50 a 50.000 euro.
Sala espositiva per planetari 100 metri quadri
Nella sala planetari è possibile visionare non solo le cupole fisse di nostra realizzazione (installata una Carbon look da 4m) ma anche le gonfiabili Go-Domes di nostra commercializzazione esclusiva (per dimostrazione disponiamo di una cupola 5m a 4 anelli). E' possibile inoltre assistere a dimostrazioni di un planetario professionale Evans & Sutherland.
Laboratorio 50 metri quadri attrezzato per riparazioni ottiche, meccaniche e verifica ottiche
Uffici di 150 metri quadri per il nostro personale amministrativo e tecnico
Magazzino
180 metri quadri di superficie
Capacità di stoccaggio:
45 metri lineari di scaffalature porta bancali
40 metri lineari di scaffalature generiche
più di 20 metri lineari di armadi per accessori e piccole parti
Officina
Disponiamo di una piccola officina attrezzata con tornio, fresa, trapano a colonna, ecc. per piccole riparazioni (realizzazioni più impegnative vengono affidate ad un'officina specializzata di nostra fiducia con macchine CNC)
I servizi
Il maggior punto di forza è sicuramente la più ampia gamma di strumenti in pronta consegna in Italia!
Altri nostri punti di forza, non secondari a quello del prezzo, sono l'assistenza ai clienti, la professionalità e competenza con cui vi seguiamo nell'acquisto di un prodotto, dal piccolo accessorio al telescopio completo. Possiamo vantare, infatti, come pochissime altre ditte in Italia, un grado di soddisfazione della nostra clientela pressoché totale, tanto che la nostra migliore pubblicità è proprio il passaparola dei nostri clienti che consigliano ai propri amici di rivolgersi a noi.
Grazie a tutto ciò siamo attualmente una delle ditte più affermate e conosciute del settore.
La società Skypoint s.r.l. è distributore esclusivo o ufficiale della maggior parte delle marche. Invitiamo a cliccare sulla pagina i nostri marchi per prenderne visione.
Teniamo costantemente sotto controllo il mercato dell'astronomia selezionando i prodotti migliori e le ultime novità, proponendoli sul mercato nazionale a prezzi sempre onesti e concorrenziali con la possibilità di vantaggiosi pagamenti rateali anche a tasso 0 e ritiro del vostro strumento usato.
Inoltre siamo in grado di garantirvi una costante e qualificata assistenza e consulenza tecnica grazie ai nostri tecnici sempre presenti in negozio e di esperti periti elettronici e meccanici; da noi potrete trovare tutti i pezzi di ricambio originali previsti dalle marche che trattiamo. La garanzia contro i difetti di fabbricazione è presente su tutti i prodotti e la sua durata varia a seconda delle marche. La durata in anni è indicata per ogni marca sul listino prezzi.
Siamo la ditta più specializzata per l'osservazione in H-alfa o altre lunghezze d'onda del Sole in quanto siamo i distributori per l'Italia di tutte le marche di prodotti per l'osservazione del Sole, perciò possiamo garantirVi risultati altamente professionali!
Trattiamo prodotti per alta e altissima risoluzione, strumenti a riflessione professionali fino ad un metro di diametro e rifrattori apocromatici di ogni tipologia e dimensione.
Skypoint è inoltre diventato in questi anni il maggior punto di riferimento in Italia per la costruzione e fornitura di Planetari Digitali chiavi in mano, sia per uso didattico sia professionale. Di nostra realizzazione è il Planetario di Padova, considerato attualmente il planetario digitale tecnologicamente più avanzato d'Italia, con pochi pari anche in Europa.
Skypoint è rappresentante esclusivo per i planetari Evans & Sutherland in Europa e nel bacino del Mediterraneo. Visitate il nostro sito dedicato www.skypointplanetariums.eu.
Visitate la sezione REFERENZE di questo sito web per rendervi conto di chi è Skypoint e di quanti Enti Pubblici e Scientifici abbiano scelto noi in questi anni.
Non per ultimo abbiamo un ricco settore riservato alle osservazioni naturalistiche, diurne o notturne, con i migliori strumenti sul mercato dedicati al birdwatching e osservazioni di animali a lungo raggio, ampia scelta di visori notturni, binocoli stabilizzati e strumenti per forze di Polizia, Vigili del Fuoco e Protezione Civile.
Potete ordinare i nostri prodotti via telefono, fax, e-mail o tramite il catalogo e-commerce e riceverli direttamente a casa vostra in tutta Italia e in tutta sicurezza tramite un qualificato corriere espresso. Inoltre potete trovarci, come espositori, alle principali fiere di astronomia e star-party.
Skypoint offre quindi la più vasta e ricca selezione di prodotti di tutta Italia e una delle maggiori d'Europa.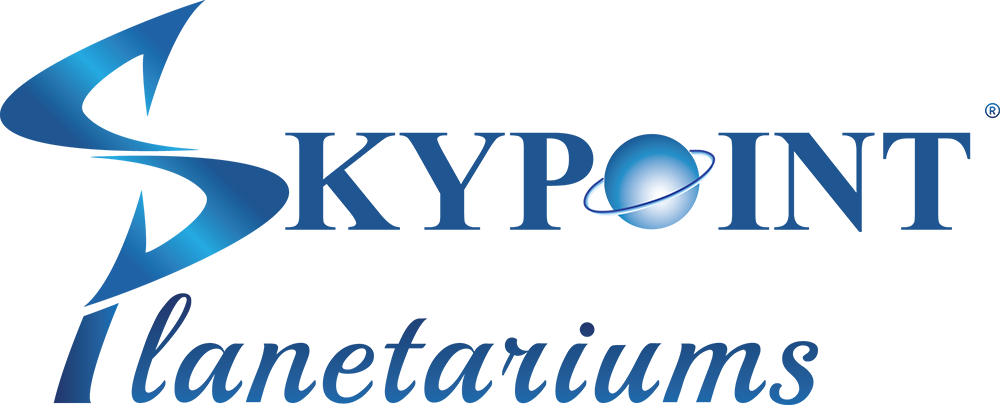 Skypoint è l'azienda leader in Italia nella fornitura ed installazione di planetari digitali didattici, divulgativi o professionali, dotati delle ultime tecnologie. I prodotti disponibili tramite la sezione Skypoint Digital Planetariums sono planetari digitali, planetari ibridi, planetari ottici professionali, cupole gonfiabili o fisse.
Le marche di planetari in esclusiva per l'Italia ed Europa: Evans & Sutherland.
Cupole in esclusiva per l'Italia e parte dell'Europa: Go-Domes; cupole fisse in fibre composite e fibra di carbonio realizzate da Skypoint.
Prodotti correlati: film multimediali full-dome di varie marche, contenuti multimediali e realizzazioni speciali.
Offriamo inoltre un servizio di progettazione architettonica in collaborazione con un qualificato studio di architetti.
Cieli sereni,
lo Staff Skypoint