The company
Skypoint Srl was founded in 1999 by Marco Cosmacini and Marzia Muradore, with the intent to become a viable alternative in the international market of amateur astronomy. An alternative created by amateurs and not by traders as we combined work and passion: this means knowing what we sell through direct experience.
Thanks to the rapid growth, the increasingly high specialization and professionalism and the exclusive distribution of most of the most famous brands, currently Skypoint is considered nationally as the reference point for Italian amateur astronomy community and also at European level.
Our company directly cooperates with many specialized manufacturers in order to guarantee all the most competitive prices in the market and a wide choice of products of all brands including telescopes, binoculars, microscopes, accessories for astrophotography and more.
There are currently more than 3000 products in the catalog, many of which are available for immediate delivery.
Skypoint headquarter
Visit us at our shop of 800 square meters in Campoformido (Udine) on Highway 13, No. 145/11 to see many instruments and accessories on display for the macrocosm and microcosm and to be advised and to be advised by our expert technicians.
In our store, thanks to our dedicated meeting room, the groups of amateur astronomers, Observatories or Public Institutions, Schools or individual users can decide, choose and analyze the instrumentation of the observatory, followed by our staff.
Headquarter:
Exhibition hall - 110 square meters
In the shop you can find all the most important products marketed by Skypoint as you can clearly see from the photographs with telescopes from 50 to 50,000 euros.
Exhibition room for planetariums - 100 square meters
50 square meter laboratory equipped for optical and mechanical repairs and optical checks
Offices of 150 square meters for our administrative and technical staff
Warehouse
180 square meters of surface
Storage capacity:
45 linear meters of pallet racking
40 linear meters of generic shelving
more than 20 linear meters of cabinets for accessories and small parts
Workshop
We have a small workshop equipped with a lathe, milling machine, column drill, etc. for small repairs (more demanding projects are entrusted to a specialized workshop of our trust with CNC machines)
Services
A very wide range of instruments that can be purchased in the store or directly through our E-commerce: whether you are looking for an instrument for astronomical, naturalistic or microcosm observation, our store offers a wide choice for every need.
We constantly monitor the astronomy market by selecting the best products and the latest news, offering them always with competitive prices.
We guarantee constant and qualified assistance and technical advice thanks to our technicians. From the small accessory to the complete telescope, we provide pre and post sales assistance to guide you in the purchase: customer satisfaction is essential for us!
Moreover, at Skypoint you could find all the original spare parts provided by the brands we deal with. The warranty against manufacturing defects is present on all products and its duration varies according to the brands. The duration in years is indicated for each brand on the price list.
We are also specialized for observation in H-Alpha or other wavelengths of the Sun: here you will find all the main brands for solar observation for highly professional results!
We handle very high resolution products, professional reflection instruments up to one meter in diameter and apochromatic refractors of all types and sizes.
Visit the REFERENCES section and discover the Public and Scientific Bodies that have chosen us over the years.
In addiction we have a rich sector reserved for naturalistic observations with the best products on the market dedicated to birdwatching and long-range animal observations, a wide choice of night vision goggles, stabilized binoculars and instruments for police forces, Fire and Civil Protection.
You can order our products by phone, e-mail or through the E-commerce catalog and receive them directly at your home throughout Italy and abroad in complete safety via a qualified express courier.
You can also find us, as exhibitors, at the main astronomy tradeshows and star-parties.
Skypoint Planetariums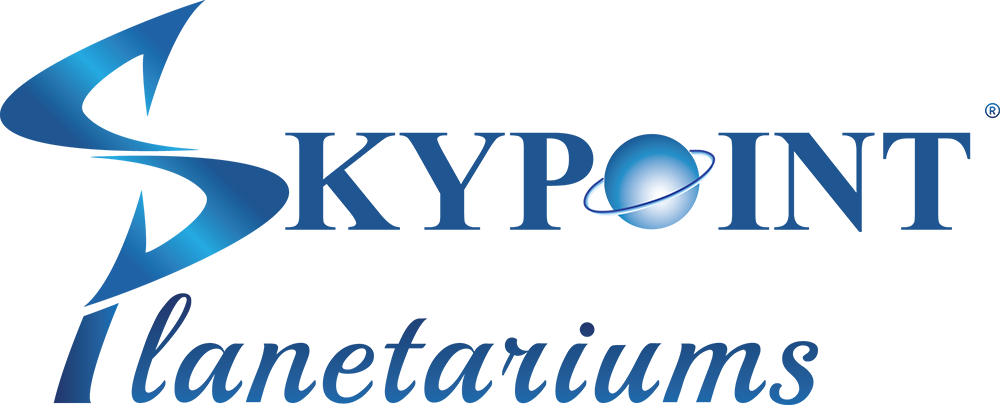 Skypoint has also become the leading company in Europe in the supply and installation of educational or professional Digital Planetariums, equipped with the latest technologies.
The products available through Skypoint Planetariums are digital planetariums, hybrid planetariums, professional optical planetariums, inflatable or fixed domes in composite fibers and carbon fiber.
Since 2014 Skypoint is the exclusive representative for the Evans & Sutherland for digital planetariums in Europe.
Visit our dedicated website: www.digitalplanetariums.com
Clear skies,
The Skypoint Staff