Astro-Physics presents the all new GTOCP4 control panel compatible with all of the Astro-Physics GTO mounts. Is it possible to order the upgrade kit with the new GTO control panel version 4 and the mandatory cable CABBP4SET with special price of Eur 1599,00 instead of Eur 1818,00 up to April, 22th.
GTOCP4 Features
Design Goals
All new, completely redsigned with modern chip technology resulting in faster processing speed and increased memory capacity for future feature additions. GTOCP4 supports floating point operands to improve calculation accuracy and coordinate conversions.
Direct download of future firmware updates for the GTOCP4 (very quick and easy) as well as the Keypad.
USB 2.0. Ruggedized version is rated for very warm and cold temperatures and is dust tight and water resistant.
Ethernet can be point-to-point w/PC or networked without user configuration. Simply enter the IP address into the browser URL and gain access to the GTOCP4 Web interface. This will provide easy configuration of your Ethernet and WiFi connections and upload of firmware updates. Additionally, since the Web interface is built into the GTOCP4, you can access it on any operating system that supports a Web browser without having to install any special software.
WiFi to enable connection of your mobile devices or PC to control your mount. Can be point-to-point for field use, or connected to a WiFi network. Specify your preference and turn the options on or off within the GTOCP4 browser interface.
RS-232 ports. We retained both RS-232 ports for those accustomed to this dependable mode of operation. Note that the lower port is now fully functional.
Integrates all functions of the Absolute Encocders and the Precision Encoders and mechanical Limit Switches. . Secondary boxes are not utilized. This results in faster response rate when guiding.
Applies Safety Slew logic to all slew commands regardless of source - Keypad or any computer program. This ensures that your mount will slew safely from a counterweight up position or into a counterweight up position while using the meridian delay feature.
12V - 24V DC power. Servo control system operates from a readily available 12 volt source, so it can run for long periods in the field. Compatible with standard automotive or marine batteries.
Backward Compatibility. All of this in a compact size that fits all previous GTO mounts. Adapters may be required.
Mechanical Features
Machined aluminum housing provides robust protection for electronics
All input lines are protected against heavy static discharge with transorbs
Dovetail construction allows quick removal from all GTO mounts
12V DC receptacle (2-pin male) for locking power cable. All upgrades from previous GTO control boxes will require a new cable
USB 2.0, ruggedized version for extended temperature range, dusttight and water resistant
Ethernet receptacle
Motor cable receptacle (10-pin female). All motor cables used with GTOCP2 or GTOCP3 will plug in here
Encoder receptacle (10-pin male). For Absolute Encoder or Precision Encoder cables
Autoguider receptacle for any CCD with modular RJ-11-6 connector
Two 9-pin RS-232 serial ports (DB9 female receptacles, a.k.a. DE9). If you use APCC Standard or Pro and your computer connectivity is flakey, you can use one of these RS-232 ports as a backup to your USB or Ethernet connections. If the signal is dropped through your primary input, the serial cable will fill in. Both ports are full speed.
GTO Keypad Controller locking receptacle (5-pin female)
AUX receptacle (7-pin female) for Limit Switches and future planned functions under development
Wi-Fi antenna with adjustable postion
Control Options for your GTOCP4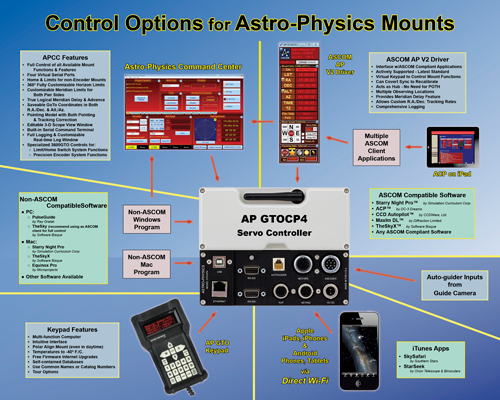 The command language protocol that is programmed into the microcontroller of the GTOCP4 Control box allows the sophisticated control functions of your mount. Please keep in mind that the software that communicates with the mount will determine which commands are utilized. For instance, although the control box is programmed to include a command that can implement a timed guide move, if the software does not issue the command, this feature cannot be used.
For optimum utilization of the advanced functions in the command language protocol, we recommend that you control your mount with either software that utilizes the ASCOM V2 driver or the Astro-Physics Command Center (APCC). All of these control options were written by Astro-Physics.
Please note that even if the upgrade kit is compatible with all of the Astro-Physics GTO mounts there will be the need of other adapting accessories for some mounts. We invite you to contact us directly in order to know what are the mandatory accessories for your mount. For a quick preview you can take a look to this document that shows the needed accessories for older GTO mounts.