PrimaLuceLab EAGLE - Control unit for telescopes and astrophotography
As of today you no longer need to work with cumbersome laptops to control your telescope and all accessories (cameras, computerized mounts, filter wheels, etc.) for astrophotography. Eagle is the integrated control unit specially designed for telescopes in order to simplify astrophotography. Eagle perfectly integrates into your telescope and allows you to remotely control all functions over a wireless connection from your smartphone, tablet or even another normal computer!

3-in-1: Eagle integrates a a computer running Windows Embedded 8.1 PRO (more stable and compact version than normal computers), a power bridge to manage all the connected devices, a WiFi system to remote wireless control, all that in a special aluminum case PLUS compatible that can be connected in various ways to your telescope, always with maximum rigidity.


Why EAGLE?
In PrimaLuceLab we know that astrophotography can be complicated and, especially, to record weak objects with long exposures, the control computer and various electronic devices are the key. These instruments, however, make it complicated to setup the telescope in the field (often in isolated places with low light pollution) and to use, with many cables that may accidentally disconnect off during use! More, laptop computers have a high power consumption and thus they require large and heavy batteries to be powered for all the night.

EAGLE solves all these problems and make astrophotography easier and faster!
EAGLE advantages
Easier to use: eliminates the need for an external computer. Since Eagle connects directly to the telescope and rotates with the mount while it track the stars in the sky, the problem of cables that can detach during astrophotography sessions is overpassed. USB and power cables will not come off accidentally as Eagle moves with the telescope!
More compatible: it allows remote control via Ethernet or WiFi from any device (smartphones, tablets, computers) with any operating system (iOS, OSX, Android, Windows). It's compatible with all software for astrophotography with any telescope, CCD cameras, guide cameras and computerized mounts.
More efficient: it manages the power for all telescope components and it reduces the size and weight of the batteries required for power up everything.
More stable: it uses a Windows Embedded 8.1 PRO operative system, lighter and more stable than the one found in traditional PCs but 100% compatible. It has no fan or moving parts so it doesn't introduces vibrations.
More portable: it is lightweight and compact, weighing only 950 grams and it integrates seamlessly into the PLUS system. If you don't you have a PLUS element or if you use other's brand telescopes, just add the PrimaLuceLab "Vixen + Losmandy PLUS dovetail clamp" to EAGLE and connect it to the Vixen or Losmandy dovetail bar of your telescope.
Thanks to Eagle you won't need an external control computer (usually a notebook), a smaller and lighter battery will be sufficient and you will use much less cables.
What EAGLE embodies
A computer running Windows Embedde
d PRO 8.1, a more stable and compact version of the operating system found on most laptops. You can use Eagle with any already exists astronomy software then you will not have to learn new software but simply install in the Eagle (like a normal computer) the one you already use: AstroArt, MaximDL, Nebulosity, PHD Guiding, etc. We optimized the Windows Embedded 8.1 PRO installation to have the operating system faster (Eagle is ready to use in just 35 seconds after pressing the ON button) and to maintain a better stability (to avoid the tedious crashes that often happen with normal computers even during astrophotography sessions).

Eagle has a motherboard with Intel® Atom™ processor, fast 4GB memory and fast 64GB SSD hard disk, everything needed to make the system run as fast as possible. Eagle has 5
A power bridge, a more efficient way to manage all of the devices used in astronomy: you'll need a smaller field battery and you will not have all the power cables from every devices to the ground. Eagle has a separate 12V power that runs a current up to 14 amps: then, using a special internal board, it has 4 power out 12V ports to which you connect all the other devices. This way you can also power of your CCD camera, mount guide camera or other accessories directly from the Eagle (using the special optional cables) avoiding the need for other power supply sources and reducing the number and length of cables.

In order to power all your devices, you will have only one cable that goes to the battery or the AC adapter: the one that connects to the Eagle. All the power ports are equipped with safety screw to prevent unwanted detachment of the cables or reverse polarity. 3 power out ports with 3 Amps fuse while the 4th power out port has 5 Amps fuse and it's designed for cooled CCD camera connections (since the cooling system usually needs for more power).USB ports (four USB 2.0 and one USB 3.0), Ethernet port and a HDMI port (so you can connect to an external monitor and use it - together with a USB mouse and keyboard - as a desktop PC, for example to process the recorded images).
A WiFi co
ntrol system: in order to run Eagle, you don't need mouse or keyboard: you can control it through a dedicated App, connecting via WiFi from any mobile device (tablet or smartphone) with any operating system (iOS, Android or Windows Mobile) or from another computer (Windows or Mac). It also has a network port for wired control (useful for remote control in fixed observatories). Turn the Eagle on, then turn on your device's WiFi connection and select the network that Eagle will create. Then activate the remote control App and you will have Eagle desktop on your device screen with all your software: the remote control App uses a special mode so you can use your finger on the touch screen as if it were a mouse in a simple and fast way. After setting the acquisition parameters and start the autoguider, you can launch the images recording and turn off the device: Eagle will automatically perform the session!

For your safety each Eagle device creates a different WiFi network from others Eagle (with different access password). In addition, in order to wirelessly control the Eagle you will have an access password that only you know (personally defined for every Eagle). This way you can use different Eagle once, for example during a StarParty. Eagle also has a network port for cabled control: you can for example use it for remote control of an observatory.
The PLUS aluminum case, rigid and lightweight: we designed the particular case (patent pending) to be both incredibly rigid, such as the support dovetail bars for telescopes, and to let you directly connect to any PLUS elements maintaining a perfect system rigidity and avoiding any flexure. As for all the other PLUS elements, Eagle's case has more M6 threaded holes to connect the other PLUS elements, every one with at least 2 M6 screws (in order to keep the system's rigidity). For example, it can be placed between the PLUS support rings and guiding rings perfectly integrated into the telescope. Thanks to great case's rigidity, you can directly install the PLUS guide rings on the case to support, without flexures, guide telescopes up to 3 Kg. In this way you can easily transport the telescope with Eagle, guide scope and guide camera, everything already installed, greatly reducing the time it takes to prepare your setup for astrophotography!

Don't you have a PLUS element or do you use other's brand telescopes? Just add our "Vixen + Losmandy PLUS dovetail clamp" to the Eagle and connect it to the Vixen or Losmandy dovetail bar of your telescope! This way you can install it where you want, keeping a perfect weights balance, a key aspect in long exposure astrophotography.
Connection and power cables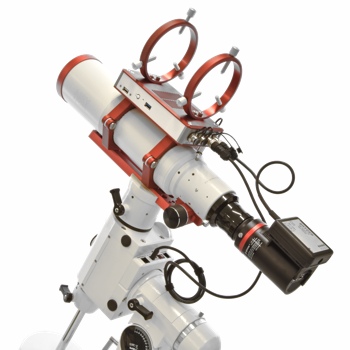 In order to make the Eagle system more efficient, we have made special power cables for different mounts or CCD cameras. The Eagle-compatible power cables present on one side of instrument power jack (for 12V power). On the other side they have the plug with Eagle screw in order to prevent being disconnected accidentally from the Eagle. We also provide certified USB cables with various lengths to customize your system according to the imaging and guide telescope you want to use . If the cable for your equipment is not present among the optional accessories, contact us and we will make it for you.
Cables already available:
Eagle-compatible power cable for SkyWatcher AZ-EQ6, N-EQ6, HEQ5, AZ-EQ5 and EQ5 SynScan mounts
Eagle-compatible power cable for QHY CCD cameras
Eagle-compatible power cable for Atik CCD cameras
Eagle-compatible power cable for 700Da Cooled camera
Eagle is also the perfect system to connect the SkyWatcher and Orion SynScan computerized mounts directly to Eagle using the EQMOD compatible cables and therefore bypassing the SynScan handpad (Eagle, using a special software, directly controls the mount without the handpad). Then we offer EQMOD USB cables that allow you to connect Skywatcher AZ-EQ6, N-EQ6, HEQ5 and EQ5 SynScan SynScan to one of the USB ports of Eagle.

You can find all the cables in the Eagle-compatible accessories line.